The content on this page served as my portfolio for the Iowa High School Press Association's Writer of the Year contest, in which I received 1st place in March 2018. Contestants submitted five works from their high school journalism portfolio.
Stories within stories
Behind the story:
West High alumna and former West Side Story design editor Shirley Wang received considerable attention after her podcast highlighting her dad's friendship with Charles Barkley went viral. This story was retweeted by numerous celebrities, and she was interviewed by the The Washington Post, USA Today, and CNN. Wanting to take a different angle from these large media outlets, I sat down with Shirley and her brother Mason to get the "story behind the story."
Effect:
Shortly after the story was published on the West Side Story website on Feb. 5, 2019, it was shared by numerous individuals and became the most viewed story on our site that week.
This article received a "Best of SNO" award and was later published in The Cedar Rapids Gazette.
Story:
"Keeping her father alive: how a 'suburban dad' and Charles Barkley impacted a nation" by Anjali Huynh
When 2014 West graduate Shirley Wang's dad passed away, she dedicated herself to cherishing his memory. Now, she's the subject of nationwide fame after sharing his most treasured story: his friendship with an NBA superstar.
The wild journey began with a cat litter scientist from Iowa, a former NBA superstar and a strange coincidence that would impact their lives for the better.
Residing thousands of miles apart, Lin Wang and Charles Barkley had over a foot in height difference and led strikingly different lifestyles. Yet, as West graduate Shirley Wang '14 discovered, there are more similarities between a sports legend and "everyone's suburban dad" than meets the eye.
Initially, the alleged friendship appeared unlikely. Scrolling through seemingly one-sided, exclamation point-filled texts between the two men, Shirley saw the story as far-fetched, presumably a joke played on an innocent man. After all, this seemed more like a fantastical party story, especially given that the scientist in question was her dad.
But after Lin was diagnosed with cancer in 2016 and their time together became limited, Shirley gave the tale another chance, initiating a one-on-one conversation styled like a traditional interview.
"So many people hadn't taken this story seriously, and when you're being interviewed, you feel very important," Shirley said. "It was about treating him with respect and treating his story with respect."
This primary intimate conversation led to a piece aired on NPR on Friday, Dec. 14, 2018. What Shirley was not expecting, however, was the overwhelming media attention this 14 minute podcast received. Less than a week later, she found herself appearing on the Today Show, featured in the Washington Post and cited in celebrity Twitter posts — all because her dad befriended Charles Barkley.
Creating the story
When Lin returned to his Iowa City home from a business trip several years ago, he bore a strange anecdote: he had met and befriended NBA superstar Charles Barkley in a bar. Over the next few years, the Wang family became familiar with hearing about their relationship. Lin described encounters with this mystery man anywhere from formal dinner events to graduation parties.
It wasn't until Barkley appeared at her father's funeral last June that Shirley realized her father's importance to the celebrity. She described his arrival, saying, "It was shocking how tall and sweaty he was … I remember just forgetting that it was a funeral."
Inspired to continue the story on a larger scale, Shirley messaged Alex Schroeder, a digital producer for the station where Shirley interned in college, WBUR Boston. After pitching her podcast idea, Schroeder realized it would be perfect for sports segment "Only A Game."
However, the process took time. Lin's passing prompted Shirley to embark on travels around the globe: to Macau, Greece, anywhere to help distract from her grief and live a life of adventure. This temporarily put her story on hold.
"I was just not in a state of mind to do any kind of work like that for a really long time," Shirley said. "Of course, I was writing about my dad and always thinking of him, but taking what happened and putting it into an actual piece that is shared with everyone else … it can be really intensive."
While traveling, Shirley decided to resume creating the podcast, communicating with Schroeder whenever she could. Schroeder recalls his surprise that Shirley's cousin communicated with Barkley while Shirley was overseas, as she was concerned that the phone with his number would be lost in her travels.
"We pulled it off because there were all these little quirks," Schroeder said. "You wouldn't know that while listening to the final project, it's very polished, but I thought, 'Wow, everybody's really pitching in to make this work.' It's just a nice community feeling to a story that's already so much about community. The process really reflected the content."
When Shirley eventually interviewed Barkley, she attempted to remain professional, intending to keep all conversation relevant to the story. This plan shattered, however, when Barkley made comments and gave advice that reflected how a father and daughter would converse.
"It was eerily similar to exactly what [my dad] would say," Shirley said. "It made me realize that damn, they had a lot of conversations, and I can definitely go to [Barkley] and ask him things later."
For several more months, Shirley continued to work with Schroeder and others to create the podcast. Though the work was tedious and sometimes overwhelming to think about, Shirley persisted in telling her father's story with heart and ingenuity.
"At times, I felt paralyzed, and it was hard to figure things out," Shirley said. "But I learned how to deal with uncertainty throughout my dad's sickness, so it was just dealing with things day by day."
Processing the response
Waking up on Saturday, Dec. 15, 2018 Shirley was bombarded with numerous texts, emails and tweets all pertaining to one subject: her podcast. Shortly after airing, the story spread like wildfire. It was shared by thousands nationwide, including prominent figures like Seth Meyers, Mindy Kaling and one of Shirley's personal favorites, Dictionary.com.
Shocked, Shirley said the newfound sensation was like "everyone was on the same drug."
"It's like I created this thing that everyone is reacting very viscerally to, but I don't have that visceral reaction," she said. "And everyone's texting me about their drug trip."
Humanity. Noun. The quality of being humane; kindness; benevolence.

See also: Charles Barkley and Lin Wang https://t.co/IhyHNyawgF https://t.co/jbelwRyTQB

— Dictionary.com (@Dictionarycom) December 15, 2018
For Schroeder, the response's speed was more surprising than the popularity itself.
"I knew it had all the makings of a really great story and be a story that would get a lot of attention, [but] we thought we'd slowly build up recognition," he said. "Instead, it found everybody organically. That really speaks to how special that story is."
Shirley's former high school journalism adviser, Sara Whittaker, was one of many who fell in love with this piece.
"I cried and I laughed," Whittaker said. "It was so well written and from the heart. It's hard for so many people to be creative and thoughtful when they're going through something, and I was just really impressed."
Her dad's friendship with Charles Barkley made you cry. This is why she shared it. https://t.co/jjw0OrfFHq

— The Washington Post (@washingtonpost) December 18, 2018
Whittaker wasn't alone in this sentiment. The national reaction to this piece was so impactful that Shirley's story was named one of NBC's 2018 "13 moments in Asian America that moved us."
"I felt like it was a huge responsibility to be on the list and I felt that I had immediately become a figure," Shirley said. "I somewhat unwillingly became representative of so much more than just my own personal experience."
With over two million views, Shirley's story touched the hearts of readers worldwide, sending them on a rollercoaster of emotions as she made herself vulnerable to others. However, the podcast elicited a different reaction from Shirley's family.
"I liked the version of the story that I've experienced better, so I only listened to it once," said her brother, Mason Wang '18. "It represented my dad, not completely, but no story in 15 minutes can do that."
Despite the overwhelmingly positive feedback, Shirley and Mason believe the podcast didn't entirely encapsulate their father.
"I think my dad was different in his own ways, but he's closer to a regular dad than you might think," Mason said. "It's not just your archetypical perfect, wholesome, Asian dad."
"It's just the nature of the story," Shirley added. "There's no way of actually summarizing a character in any context. No journalism article can."
Moving forward
Interviews upon interviews later, Shirley is now looking towards furthering her career, seeking out a position as a production assistant while continuing to freelance. Reflecting on the story's fame, she pondered how her father would hypothetically react to the national attention received if he were still alive today.
"He told me once that he felt really happy with what he accomplished," she said. "He never wanted worldwide fame."
At times, Shirley felt that processing grief and memories with her father on a national stage was overbearing. Nonetheless, she plans to transform her emotions from this podcast into momentum.
"It's been really intense, and I've definitely cried because it was really overwhelming to deal with," Shirley said. "But now I get to start my career out of this really honest story; it's a story that I created out of something that I needed for myself."
Whittaker fully expects that Shirley's success will continue moving forward in her journalism career.
"Anything she wants to do, I think she'll be able to do," Whittaker said. "I feel like so many doors have opened because of this, and it couldn't have happened to a better person. Her heart's in the right place, and I can't wait to see what great things she continues to make."
Schroeder summed up the podcast's value by saying it "teaches us so much about people." By connecting people from different worlds, he believes Shirley made a lasting impression on all who heard it.
"It hit on so many different things that every time I listen to it, I pick up on something different," Schroeder said. "I'm just grateful to have produced a story like this and learned from it. Hopefully these are the types of stories that 'Only A Game' and myself in my journalism career can continue to tell."
Most importantly though, Shirley feels that through pursuing this story, she learned more about both her father and herself. Cherishing his memory and keeping him close to heart is what propels her to move forward.
"In Buddhism, you're returned to the earth in some sense, and you live on in that way," Shirley said. "That's how it feels: he's just living on in ways that I have to detect myself, but he's always around me. He's touched so many different things in my life, so I'll always have him."
Coming out of the shadows
Behind the story:
During the 2017-18 school year, the Deferred Action for Childhood Arrivals (DACA) act was a frequent topic of discussion amongst the student body. I had pitched a story regarding these individuals several times throughout the year, and eventually got my shot at writing a story on the issue in the spring of 2018. Around this time, I learned of a group of "dreamers," children who are legal immigrants whose green cards are stuck in backlog. As a result, these students cannot obtain many of the rights of their American peers, despite many living in this country for over a decade. Wanting to touch on both categories of "Dreamers," I constructed a long-form story surrounding immigration and what is being done to change the status quo.
Effect:
"Hidden among us" was the cover story for the April 2018 print edition of the West Side Story and was published on April 6, 2018. This article sparked discussion within my high school on a fairly controversial topic. It won an honorable mention in the 2019 international Quill and Scroll "In-Depth Reporting: Individual" category.
Story:
"Hidden among us" by Anjali Huynh
A look into how the American immigration system impacts students of varying legal statuses.
"Economy class, please prepare to board the flight."
A young child stands in line with her parents. She glances around the airport, taking in all the people, the luggage, the enormity of it all. Clinging onto her parents with one hand and holding a one-way ticket in the other, she boards the plane.
Thousands of miles away, another child sits on a truck with several family members. It is crowded with other migrants who, like her family, risked everything to leave the dangers of home and find a way into the land of opportunity.
Though the situations of these two children are very different, they have one thing in common: they are now foreigners in a land they consider home.
As numbers of immigrants in the United States continue to climb every year, with around one million new immigrants arriving every year, immigration remains a constant topic of discussion in modern society. According to the Pew Research Center, the number of immigrants reached a record high in 2015, with 43.2 million first-generation immigrants accounting for 13.4 percent of the population.
Among these new residents are parents seeking better futures for their family in the United States, either legally or illegally. Their children enter the American school system, where, according to the Migration Policy Institute (MPI), they may be subject to discrimination.
An MPI study about discrimination cited personal discrimination, such as teachers having low expectations, and structural discrimination, like school segregation, as factors that play roles in isolating young immigrants in school.
Within the ICCSD, however, students do not have to fear discrimination based on legal status from administration, as the district does not ask students for this information.
"The district is permitted to educate every child who walks through the door and so [legal status] is not something that we ask," said Superintendent Steve Murley. "There are times when that information is shared with us voluntarily by students or their parents, but that is not something that we actively seek out from our children."
However, this does not hold true at the national level. Immigrant students, both documented and not, face a multitude of issues, including pursuing higher education, remaining with their families and building futures for themselves.
Chapter 1: The forgotten Dreamers
Her first recollection of being different began with an art competition.
"Our [third-grade] teacher introduced the class to this drawing contest by Google where elementary students would draw creative ways to spell 'Google,'" Pareen Mhatre '18 recalled. "I spent all day on my illustration [and] worked really hard on it. However, there was a requirement that those who submit illustrations must be permanent United States residents or American citizens. Not being able to submit a piece for some contest doesn't seem like a big deal, but back then, I was really upset."
This was only the first of many difficulties Mhatre would face as an Indian student living in the United States.
Mhatre was born in India in April of 2000. Four months later, her parents moved to the United States legally. After briefly living in Cincinnati, the family moved to Iowa City in 2001. As law-abiding immigrants, Mhatre's parents applied for permanent residency in 2012, the earliest time possible to apply, and have been waiting to receive it since.
Meanwhile, from kindergarten on, Mhatre was educated in the ICCSD. An AP and honors student, she strived from a young age to achieve her dream of attending medical school and becoming a pediatrician. There was no guideline she had to meet to participate in extracurriculars, no legal status she had to have to take a course.
However, this all changed toward the end of her high school career.
"My legal status has never been questioned, has never been taken into account," Mhatre said. "It's like [everyone] treated me as if we were all equal, and I'm so glad they did that. But when I started to apply for colleges, that's when I realized I'm an international student."
International students are citizens of one country but college-educated in another. While she has lived in the United States for almost 18 years, she is still considered an international student while applying to colleges because she has not received permanent residency. This means she is evaluated alongside others who have never set foot on American soil.
"I just think that is ridiculous because I've lived in this country ever since I was four months old," Mhatre said. "My education is 100 percent American [and the education of another] person from India is 100 percent Indian, yet we are treated the same."
Mhatre's family, along with over 1.5 million skilled immigrants, are currently stuck in green card backlog. This occurs when there are too many green card applicants from a country, as the United States only allows seven percent of employment-based immigrant applicants from each country to receive green cards.
Consequently, wait times for green cards for certain countries have increased at stratospheric rates. According to the organization Skilled Immigrants in America, this waiting period is typically around one year but has increased for certain countries: four years for Chinese immigrants, six years for Filipino immigrants and up to 70 years for Indians.
Because of these backlogs, immigrants' children remain on visas intended for temporary stays. These roughly 300,000 children are called "Deferred Action for Legal Childhood Arrivals Dreamers." While they can legally stay in the United States, they do not have access to certain academic benefits like most scholarships or federal financial aid. As a result, they face high college costs and larger application pools, making their futures uncertain.
"[Becoming a pediatrician] has been my dream since I was very young," Mhatre said. "But it's going to cost us a lot to get there, and not a lot of [medical] schools in the United States accept international students … My future shouldn't have to be dependent on my immigration status, wherever I go."
To add to this uncertainty, if they do not have a green card by the time they turn 21 years old, they have to apply for their own student or work visas, leave the country voluntarily or face deportation. If they choose to get a new visa, they would find themselves at the end of the several-year-long waiting line for a green card.
"[My parents and I] don't know what to do," Mhatre said. "The future is a little shaky and we don't know how to approach our situation because we don't know anybody that has been through this before, so we don't have the guidance."
Despite being an Indian citizen, Mhatre's long residence in the United States has made her birth country a foreign place. Without immigration reform, children of legal immigrants, like Mhatre, could risk losing the only country they have ever known.
"Whenever I visit India, it doesn't feel like home to me; it just feels like [a] country that I'm going to visit during break," Mhatre said. "Of course, I love the culture, I love my family, but I was raised here, and I feel American."
Chapter 2: A world of uncertainty
"¡Aqui, estamos, no nos vamos! ¡Aqui, estamos, no nos vamos!"
This chant was heard multiple times across the Iowa City Ped Mall, as hundreds of individuals from around the Iowa City area gathered on Sept. 7, 2017. They came together to protest the Trump administration's latest decision: rescinding the Deferred Actions for Child Arrivals (DACA) program.
The DACA program was first created under the Obama administration in 2012. It is not a pathway to citizenship, but rather, temporarily blocks legal action against undocumented immigrants.
"DACA is basically prosecutorial discretion," said immigration attorney Jessica Malott. "It's someone coming out and saying to the federal government, 'I am here. Defer any action on me for several years.' That's why it's called Deferred Action for Childhood Arrivals."
This two-year program gives recipients social security numbers, thus enabling them to attend college, obtain driver's licenses or apply for work permits.
According to the United States Center for Immigration Services (USCIS), as of September 2017, there were roughly 700,000 DACA recipients; however, the Migration Policy Institute believes that over a million people likely qualify for this program.
The future of these recipients became unclear in September of 2017, when the Trump administration chose to rescind the program. Days afterward, the Iowa City "Defend DACA" event was organized by University of Iowa student and DREAM Iowa president Emiliano Martinez.
"We had to do something," Martinez said. "We had to activate our group and use our voice as representation of DACA students … We had to focus on how we could bring people back to the [main] issues and not fall back into a lot of pessimistic conversation when we're talking about legal status protection for thousands of dreamers' children."
The original date that the program was supposed to expire was March 5; however, a federal judge blocked this order, so USCIS will continue to accept DACA application renewals until further action is taken. Without a final decision being made, hundreds of thousands of DACA recipients will remain unsure of what comes next in their future.
University of Iowa student Isaac Medina, a son of two DACA recipients, urged others to support the dreamers, saying, "They are just as American as I will ever be. There is no difference in loyalties for this country between them and others."
Chapter 3: What comes next
For years, immigration has plagued national headlines. With the rescindal of the DACA program talks of immigration reform and how this may be accomplished have resurfaced once again. This issue has not only raised concerns with the public, but also with legislators on both sides of the political spectrum.
Iowa representative Dave Loebsack is one political figure that has strived to implement immigration reform in ways such as co-sponsoring the DREAM Act.
"It has been clear for a long time that the status quo isn't working," Loebsack said. "I believe that we are a nation of immigrants, but also a nation of laws. With little progress being made, we must move forward with a realistic and pragmatic, but tough system that enforces the rule of law and ensures accountability for those who came here illegally while not tearing apart families who have been here for many years."
Loebsack particularly addressed President Donald Trump's decision to end the DACA program as an area in need of work.
"The President's decision to end the DACA program was disheartening," Loebsack said. "We should not allow children who were brought to this country through no action of their own … to be deported to some place they may not even know."
Mhatre believes that DACA is not the only immigration issue in need of restructuring. She says that the struggles of legal immigrants often do not receive the attention that DACA recipients do, thus causing struggles of immigrants like herself to be ignored.
"It just seems like breaking the law [is a] a requirement in order to get government protection of your immigration status, and that's something that I don't have," Mhatre said. "So in a way, it's like if you come here illegally, you might get government protection. I'm here legally and I don't."
While Mhatre supports the DACA program, she hopes that legal immigrants become part of the conversation regarding immigration reform.
"[While applying to colleges], I was asked if I was protected by DACA," Mhatre said. "And with DACA, I could get access to certain scholarships and aid, but with my status, I couldn't. So there are illegal immigrants who are getting access to opportunities that people like me should have access to as well."
There have also been several questions regarding the safety of students within school grounds. Because of this, several universities across the country have refused to release the statuses of their students because of this.
While DACA recipients are legal residents, there is much concern that if the program ends, these children may risk being sought out by the United States Immigration and Customs Enforcement for deportation. However, according to Superintendent Murley, the ICCSD's biggest obligation is making sure they follow legal requirements while still protecting students and staff.
"Obviously one of the things that we want to do is that we're cooperative with law enforcement agencies, but at the same time, we have an obligation to our students and their families," Murley said. "We want to make sure that we are protecting their rights … so someone from any law enforcement agency came into the district and requested information, we'd want to get more information about that request, and then we'd likely wind up working with our legal counsel to make sure we understand what our obligations are to that agency and to our parents and their students."
As debates continue within the national government, Malott and Mhatre reiterate the need for immigration reform in the United States.
"We haven't really had any immigration reform, so I'm glad it's at the forefront and people are talking about it because it's certainly an important issue," Malott said. "Hopefully now with DACA being in the forefront, now's the time because we have a lot of young people … that consider themselves citizens because they've been here for so long. Someone else made a choice about them and their future and decided to bring them to the U.S. for whatever reason. We have this population of people that we just need to figure out [what to do with]."
"Our voices have remained unheard, so it's a little disappointing," Mhatre said. "People like me just want to be included under the law."
Defending my craft
Behind the story:
It is no secret that the news media industry is consistently under attack. From "fake news" claims to overt death threats, journalists have become a target in recent times. As a student who wishes to pursue this "dangerous" career, I was alarmed with the hatred being perpetuated. Thus, I composed an opinion column explaining the purpose of the news media and why spreading truth should be no person's foe. This opinion was centered around my time at the 2018 Al Neuharth Free Spirit & Journalism conference.
Effect:
"We are not your enemy" was published on Nov. 28, 2018. This column was featured in The Cedar Rapids Gazette and received a "Best of SNO" award.
Story:
"We are not your enemy" by Anjali Huynh
In a time when the media is under attack, reporter Anjali Huynh explains how a trip to Washington, D.C. showed her why pursuing journalism is more important now than ever.
The gunshots ringing through the newsroom at the Capital Gazette this past summer struck more than five fatal victims. Those shots ignited fear in the hearts of every working or aspiring journalist in the country as this horrific event confirmed our worst fears: the war on the media was no longer a verbal threat but a very real, physical possibility.
Time and time again, the president of the United States has threatened the press. Donald Trump, a man considered the leader of the free world, explicitly said, "The FAKE NEWS media … is the enemy of the people." These words have since sparked hatred towards a group striving to inform the public on their surroundings. Resultantly, the United States' current climate consists of one in which others belittle opinions that dare to differ from their own and blatantly dismiss the truth.
Being told that journalism is considered a "dangerous" job would send any sane-minded person running. As an aspiring journalist, I had my doubts about pursuing this supposedly unstable, threatening occupation. After all, journalists are not known for having financial stability, nor for having simple jobs. However, little did I know that the answers to my pervasive doubt lay in a conference that would shift my entire life course.
The Al Neuharth Free Spirit and Journalism Conference is a five-day, all-expenses-paid event in Washington, D.C. that brings together journalists from around the country. This event takes place in June and is named after the founder of USA Today, Al Neuharth. Each year, after hundreds of rising high school seniors from around the nation submit applications, the Freedom Forum Instituteselects one student from each state and the District of Columbia to attend this prestigious event.
Applying was a long shot, to say the least. After all, surely there were far more talented journalists in Iowa than I. Yet two months after applying, I glanced down at my phone one day to see an email with a subject line screaming "WINNER." Beyond thrilled, I spent the next two months dreaming about having the honor to represent the state of Iowa at a national conference.
On June 16, I entered the Eastern Iowa Airport, bags packed and ready to board my flight. Never before had I flown on a plane alone or attended an event without anyone I knew. Though these feelings were mildly jolting at the time, it was nothing compared to the experiences and people that awaited me in the nation's capital.
For five days, we heard from the best and brightest of the journalism world: Pulitzer Prize winners David Fahrenthold and Sara Ganim, "Meet The Press" host Chuck Todd, New York Times photographer Doug Mills and former press secretary Mike McCurry, to name a few. And with each new person that spoke to us, I gained more insight on the importance of journalism. From uncovering Trump charity discrepancies to dealing with the aftermath of the Bill Clinton scandal, these individuals saw history happening before their eyes and were the first to tell its stories.
As I listened to these icons, toured D.C. and ate ridiculously fancy food, I pondered my future. I had asked each speaker the same question, regarding whether the Trump administration's words and actions ever deterred them from pursuing journalism. To my surprise, they answered rather similarly, saying that because we are under attack, it is more important now than ever to be a journalist in this country. Considering this, I asked myself, "Why would I not want to be part of this great legacy of storytellers and truthseekers?"
But what was most instrumental in solidifying my path were the students I met. In those magical five days, I found myself surrounded by 50 of the most talented, hardworking and genuine high schoolers in the nation. Despite our different upbringings and viewpoints, we united towards a common cause of speaking truth and uncovering the untold. In a time where the credibility of journalists is consistently undermined, these students demonstrate the integrity and drive of professionals. Their ambition and ingenuity inspires me to work harder, to pursue my passion even when others tell me I'm crazy. So long as they are out there, journalism will never die.
Since the formation of this nation, the news media has remained an integral part of American society. After all, freedom of the press is stated in the very first amendment of the Constitution. It is considered the fourth estate of government, where people turn to when they don't know who to trust or what's going on. For this reason alone, we are not the enemy of the people. It is more clear than ever that the American people need the news. They need the fact checkers, the news writers, the photographers and videographers and all the rest to hold others accountable and to share the voices of those silenced.
When first seeing the Neuharth quote, "Dream. Dare. Do." displayed on our bright blue conference t-shirts, the phrase meant nothing. Now, it means everything. This advice from Al Neuharth represents what a journalist's role truly is. We are not fear mongers or vulgar liars; we are human beings that push boundaries and work to make a difference.
So to all the journalists out there, I encourage you to keep dreaming, keep daring and keep doing. The work you do is valid. You are not the enemy of the people. Now, perhaps more than ever, the world desperately needs free spirits fighting to tell the stories that others do not want told.
Making marginalized voices heard
Behind the story:
The Iowa City Community School District is undergoing processes to improve minority student experiences. My co-writer and I wanted to focus on one specific aspect of this process and analyze how effective it really was: the ratio of minority teachers in contrast to minority students. Much research showed that having adults that mirror that student body improved minority student performances significantly. Basing our angle around this concept, we interviewed numerous teachers, students, and administration members with the intention of bringing voices to the table that had not been addressed. I wrote the majority of this over-3,000 word article.
Effect:
This story was published in the print issue of the February 2019 West Side Story as the cover story on Feb. 22, 2019. It later received a "Best of SNO" award.
Story:
"In the minority" by Anjali Huynh and Jessica Moonjely
Though student bodies across the district are growing more diverse, teachers are not following this trend. Students, teachers and administrators highlight why this lack of racial representation is significant and what is being done to combat the issue.
Teachers. Coaches. Lunchroom staff. Paraeducators. Janitors.
These individuals are integral to shaping student futures and partake in a process that impacts society. While in these positions, each acts as a role model for many generations to come.
As students nationwide obtain their educations, movements have surged across the country. From the Congressional floor to Hollywood screens, encouraging diversity has become a vital part of the 21st century. But in an era in which minority representation has been advocated for in numerous career fields, it begs the question: is proportionate diversity found amongst everyday role models?
According to the 2015 National Center for Education Statistics, the answer is no. Around 51 percent of students nationwide identified as "non-white" in contrast to only 20 percent of teachers. The ICCSD mirrors this trend, as there are only 82 certified teachers that identify as people of color out of 1,141 total in the district. At some elementary schools, such as Borlaug Elementary, there are no certified teachers of color at all.
Jeremy Tabor, the ICCSD Director of Equity and Employee Relations, believes that minority students can better connect with teachers that look like them, which makes the lack of minority instructors concerning.
"In terms of overall effectiveness, it's really about having that same life experience to be able to connect with students so that [adults] can empathize with what students are going through," Tabor said.
The University of Iowa Public Policy Center's "Student Experiences of School Climate in the ICCSD 2017" survey examined equity within the ICCSD. Key findings in this climate survey included statements like "Black students consistently report the lowest levels of equitable and respectful treatment by teachers" and "Asian students are the least likely to report that class materials and content represent them."
"I think diversity is important for everyone," said Chace Ramey, ICCSD Chief Human Resources Officer. "It enriches our education when our schools reflect our broader community. If we're not taking steps to do that, we're not providing our students the educational experience that they need and deserve."
One area that has been scrutinized by the district in an effort to resolve these issues is the hiring process. While the goal is to increase diversity of new staff, Principal Gregg Shoultz has found that there aren't many minority candidates available.
"Even though for Iowa we're a diverse town, the pool of people going to college and then becoming teachers is not very diverse," Shoultz said. "There have been several times where I haven't had any [minority] candidates."
West High remains one of many schools in the district that lacks a proportionate amount of minority teachers, with nine percent of teachers being persons of color compared to approximately 40 percent of students. Addressing this discrepancy, individuals share their thoughts on how the district's lack of minority teachers impacts student experiences.
Some believe that through having more representation, students obtain a better perspective on diversity in the world around them.
"It's a very globalized world and if you don't have an understanding for other people, for other nations, other cultures, ethnicities, languages, races, it's very hard to make it," said Diego Rivera '19, a Mexican-American student. "You don't have an understanding of other people, or at very least, lack the empathy to really just put yourself in other people's shoes."
Voices from within
An identity crisis
When English teacher Nate Frese walks into a faculty meeting, he blends into the predominately Caucasian crowd. With a lighter complexion, it is no surprise that he is mistaken as white by students and teachers alike. Many don't realize, however, that he is one of only seven minority certified teachers at West High.
Identifying as Mexican-American, Frese often questions if discussing his heritage is relevant in a classroom setting.
"I wrestle with this," Frese said. "It's not like I'm hiding anything about who I am. … It's something that I'm proud of and I'm aware of and I own, but at the same time, I'm not trumpeting it."
Minority teachers may face this internal dilemma, especially if they do not teach a subject involving frequent student discussion.
"I have a lot of pride in being Asian-American, but I don't think I get to express that very much as a math teacher," said Tiffany Chou. "This is something I could work on … to build better relationships. I have had students light up when they hear a little bit about my ethnic background."
Originally from Southern California, Chou grew up in one of the largest Asian populations in the country. However, this was not mirrored in terms of her teachers, as she cannot recall having "very many" Asian teachers or Asian students in her classes while studying to become a teacher.
Similarly, Frese does not recall having any Hispanic teachers. Because of this, he believes having a teacher he could identify with on an ethnic level would have made school a more enjoyable environment.
"When [I was] younger and trying to formulate my identity, boy wouldn't it have been a bit more comforting to see a few more Latino males on my teaching staff," Frese said. "Maybe I never would've gone and talked to them, but just to know that they were there, I think, would've put me in a better mindset about certain elements about school."
Cultivating connections
Asian students often lie under the radar when it comes to racial inequity discussions. However, climate survey data revealed that Asian students are the least likely to report having an adult at their school that they trust and go to for advice.
"If I were to have an Indian teacher, it would be easier to talk about things like a [Bollywood] dance performance coming up the next weekend, or what I would be doing during my upcoming trip to India," said Niyati Deshpande '21. "The connection would be better, and there would just be more of an understanding."
As a teacher, Frese also feels he can better connect with minority students. Throughout both his English teaching and basketball coaching careers, he has conversed with students who felt less alone due to having a minority mentor they can rely on.
"To know that there's somebody else that went through something pretty similar and to see somebody like that, there's a kind of calm and a release," Frese said. "It's like, 'Okay, I'm not completely on an island here, and it will be okay. Here's somebody that made it through that and [came] out the other side.'"
As one of the few African-American educators at West, science teacher Maureen Head has made personal connections with black students because of certain shared experiences that come with growing up black in America.
"I would never claim that there's a monolithic black experience or monolithic biracial experience, but … there are certain shared experiences that we assume the other person has," Head said. "Those shared experiences and those shared traumas [can] lead to a bigger sense of comfort when the students are talking to me."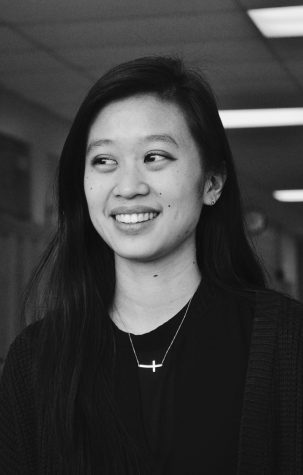 African-American students like Ariana Moffett '19 and Julian Jordan '21 are just two of the many students who feel more comfortable coming to Head with their problems.
"She understands us," Moffett said. "And she knows where we're coming from because she in her life went through the same problems that we did. She can relate to us better than most other teachers could."
"I felt like I've connected with other teachers on a personal level, but with her I feel like us both being biracial [created] a deeper connection," Jordan said.
Head said that there are times when students come to her about racially insensitive comments made by teachers that the students don't know how to respond to.
"I think sometimes the kid is venting and they just maybe need a place to process," Head said. "Sometimes they're looking [to tell someone], 'Hey this was a really big deal, and something needs to be done about it. And what sort of steps do I take to make a difference?'"
Like Head, Northwest Junior High language arts teacher Amari Nasafi has taken personal experiences and translated them into interactions with African-American students and parents. For example, because he has a brother that was incarcerated multiple times, he's connected with parents who had similar histories.
"I've had several African-American black students who have had situations that come up that I can connect with because we share that kind of background," Nasafi said. "It's not that I have any special knowledge, but sometimes when people find that out about me, it opens them up more. They don't feel like I'm judging them, and that's a huge hurdle."
There are also some minority students who believe that while diversifying teaching staff is important, they have not personally felt disconnected from teachers based on race. Asian-American student Julie Shian '20 believes that a teacher's race is not as important to her as the effectiveness of their teaching.
"What's most important is that a teacher makes an effort to try to help a student learn in a way that is best for them and makes their room approachable," Shian said. "As long as teachers make efforts to make their students feel like they are in a comfortable learning environment, the connection is there."
Suppressing stereotypes
When a student requires help in school, the first person they traditionally turn to is their instructor. However, for Robert Hooks '20, this isn't always the case. As an African-American student, he said he doesn't want to perpetuate the stereotype regarding black students being "dumb," so he prefers not to ask Caucasian teachers for assistance.
"I personally find it easier to seek help from a teacher who is African-American, because if I don't understand something, I know I won't be just another dumb black kid in their eyes," Hooks said. "They truly want to see me succeed because they want me to be better than what society says I can be."
Research done by Johns Hopkins University in 2017 concluded that if low-income black students have at least one black teacher in elementary school, they are significantly more likely to graduate and consider post-secondary education.
Another reason Nasafi can relate to black students is because he understands the stereotypes that they have to overcome and often faced similar ones growing up. According to Nasafi, the stereotype for African-American men is underperformance in school, so he felt that some teachers were taken aback by his interest in learning.
"It would creep into my mind sometimes whether I was performing really well or if they saw a young black boy who was interested in books, so they were encouraging me by being softer on me. I wanted to do well on my own merits, not because I was a representative of an underrepresented minority. I try to be like that as a teacher, too."
The district climate survey showed that approximately 65 percent of black and multiracial students report that people at their school acted as if they were not smart. Jordan, who identifies as biracial, feels that this is true with teachers as well as students, as he believed teachers had lower standards for him because of his race.
"I feel like it can come out of good intentions, … like some teachers will go out of their way to help students because they feel like they're not intelligent enough to get it," Jordan said. "But I feel like there are some teachers who do have low expectations for minorities."
There are also students like Moffett who feel that negative stereotypes against African-American students perpetuated by students and teachers discourage students from seeking success.
"It's kind of hard for someone when everyday you have to be strong and try to fight [stereotypes]," Moffett said. "After a while, everyone has a breaking point. So when you meet that breaking point, you want to fall into that stereotype, like, 'Okay, I'm going to drop out. They expected me to do that anyway.'"
Moffett also cited several instances when teachers directly discriminated against African-American students based off of stereotypes of black students not being as well-behaved. There were multiple times when she or her friends were stopped in the hallways by teachers and questioned about where they were going, while non-black students did not receive the same treatment.
"Everyday I feel like I'm fighting a battle that I'm not going to win," Moffett said, "because there are so many stereotypes against me."
Because of instances like this, Moffett firmly believes that incorporating more minority teachers into the district would improve experiences for African-American students in particular.
"You [would] have more students opening up to teachers, telling them what their problems are and just feeling that there's someone they can connect with, someone that's on their side," she said. "Everyone needs someone in their corner."
Equity actions
Recruitment and retention
Addressing the lack of minority teachers in the ICCSD is a process that has yet to be completed. While the most obvious solution is to hire more teachers of color, this is easier said than done, as the district prioritizes hiring teaching staff that come out of Iowa colleges and universities. Because the people graduating from these institutions are primarily white, this is reflected in the teacher candidate pool.
Ramey intends to announce a plan to the ICCSD school board on March 12 regarding how he and his committee plan to increase teacher diversity. This proposal includes components regarding both recruitment and retention.
"It's one thing to recruit and hire people to come to the school district, but if we can't offer a rewarding experience inside the schools, people aren't going to stay in the community," Ramey said. "[We're] looking at recruiting differently and in different places, and also … creating pathways for people that are already in the school district."
One school that has experienced greater success attracting teachers of color is Kirkwood Elementary. They have the most diverse teaching staff in the ICCSD with 24 percent of their teachers being teachers of color. Principal Anita Gerling says this is largely due to word of mouth, reaching out to colleagues and networking.
"A diverse staff means many things," Gerling said. "It means race, it means gender, it means how much experience you have. You want some new ideas, some new people just out of college, you want some people who have some experience in the classroom, [and] all of those pieces play a part in who I bring to the table to interview."
Because it is difficult to attract certified teachers of color to the ICCSD, one initiative Nasafi would like to see developed is incorporating more adults of color into the building to mentor or work with students, whether that be paraeducators or other support staff.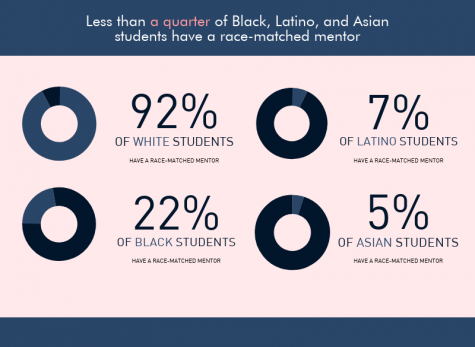 "We've got more and more of those people in the building, and a lot of them have been really helpful with the kids," Nasafi said. "If you can't get certified teachers because there's a paucity of them, why not get as many other adults to interact in the community as you can?"
Gerling follows the mirrors and windows philosophy. This idea states that children should see individuals that look like them, as well as those who reflect the world around them.
"I think that not only does [having minority teachers] support our students of color, but it also supports our Caucasian students as well, because that's a window for them," Gerling said.
According to Nasafi, the mirrors and windows philosophy can also be applied to reading materials. One of his goals when teaching fiction texts is to utilize works that represent the lives of people students can identify with.
"There's been a big push in language arts to make classrooms as culturally inclusive as possible," Nasafi said. "Kids are just more likely to get engaged when they're reading stories that connect with them."
Improving the existing environment
Due to the current hiring freeze on teachers as a result of budget cuts (see story on pages 8-9), the district temporarily cannot employ more teachers, so Ramey's plans will be put on hold. In lieu of hiring additional minority teachers, the ICCSD has focused on equity initiatives aiming to improve teacher awareness and student interactions.
Tabor believes that training existing staff to be more approachable to minority students is perhaps more plausible than focusing on finding minority teachers.
"We're not going to all of a sudden create this flow of minority teachers that will come in," Tabor said. "That's not saying that our current teachers are ineffective, but we just have to continue to expand everyone's skills across the district to make sure that we're doing the best thatwe can to support our students."
This mentality has been implemented through implicit bias training for all teachers across the district. Circe Stumbo, founder and president of West Wind Education Policy, is the designer of a three-year training process that worked with the district to train teachers to guard against implicit biases.
"The intention is to better understand why we have racial disproportionality in student experiences and student outcomes," Stumbo said. "One of the hypotheses is that implicit racial bias might be playing a role in underlying the disproportionality we see."
The teachers undergo 10 hours of professional development training over several months. During this, they talk about race, discuss implicit bias as a cognitive function and work to develop their understandings of personal biases.
"This is a program that's designed to help us understand the bigger stories and history around race in the United States and how that impacts us today," Stumbo said. "It really is the work of saying, 'What do we encounter every day as we live here in the United States, and how does that affect us in ways that we don't realize?'"
However, students like Moffett are doubtful that items like implicit bias training will produce tangible change. In her opinion, racism is an issue that won't be solved solely by a required course.
"It's going to take time and patience," she said. "And you have to want to change, whereas some of these teachers, I don't feel like they want to change."
Diversification is an ongoing process that, while lacking a clear solution, is becoming more of a priority. Frese believes it is important to note the difference between tolerance and acceptance as the district continues to strive towards equity for students of all races.
"You hear the word tolerance all the time, but it's not about tolerance. You tolerate a cold. You tolerate things that are an annoyance to you. We should not be working towards tolerance," Frese said. "We should be working towards understanding, acceptance, empathy. True inclusion is you don't even recognize the word inclusion because everybody's part of it."
Reaching out across the rainbow
Behind the story:
In 2017, the Iowa City Community School District surveyed all students to gain an understanding of the student climate within the district. Questions included asked for demographic information, information on acts of discrimination, and what could be done to better schooling within the community. The results showed that students who identified as LGBTQ+ felt less safe in the school environment. I decided to convey this information through a different lens: going directly to the students. In this article, my co-writer and I highlighted difficulties that non-heterosexual students face.
Effect:
This article was published on Nov. 15, 2018 as the cover story of the November West Side Story print edition. Sparking discussion on LGBTQ+ rights, teachers held conversations with students in their classes regarding the subject. Health teacher Kathy Bresnahan incorporated the article into her health curriculum as a means of explaining what it's like to be an LGBTQ+ student in high school.
"A spectrum of perspectives" later received a "Best of SNO" award. It won an honorable mention in the 2019 international Quill and Scroll "In-Depth Reporting: Team" category.
Story:
"A spectrum of perspectives" by Anjali Huynh & Will Conrad
While progress has been made toward treating LGBTQ+ individuals equitably, challenges and stigmas still remain.
Appearances are not always what they seem.
Iowa City was recently recognized as an exceptionally accepting community for lesbian, gay, bisexual, transgender and queer individuals, receiving a perfect score on the 2018 Municipal Equality Index. This national report for city support of LGBTQ+ rights accounts for municipality characteristics such as city nondiscrimination protections and relationships with city leaders.
West High itself has a widely-promoted gender-sexuality alliance, called COLORS, supported by administration and staff. Teachers at large promote toleration of all individuals according to the district's non-discrimination policy.
However, despite these outward impressions of diversity and acceptance, results from a 2018 district-wide survey revealed that "LGBTQ+ and non-binary students feel significantly less safe in and around school than non-LGBTQ+ and binary students."
"I want the data to change. I want all of our students to feel safe. I want our staff to feel confident in how to respond," said Laura Cottrell, the ICCSD's Director for Diversity and Cultural Responsiveness. "I want all of our schools to be welcoming in every way, shape or form. It's my goal to move those numbers."
In response to these survey results, the ICCSD and West High implemented changes for the 2018-19 school year, with the hope of enhancing quality of life for marginalized students. The most obvious change was Student Senate's alterations to homecoming court. However, this decision received much backlash, including remarks directly made against LGBTQ+ and non-binary students.
"In an undercurrent of conversations that kids were having, there was obviously some not-great understanding and acceptance of gay students," said Principal Gregg Shoultz. "We think that we're a pretty progressive community, but that's not uniform. There's a lot of learning that has to go on."
Addressing these concerns, perspectives from students, teachers and administrators alike outline the West experience of an LGBTQ+ or non-binary student and how the school hopes to cultivate a more positive, safer environment moving forward.
Gaining ground
Out of the groups represented in the LGBTQ+ community, lesbian, gay and bisexual members have perhaps had the most success in campaigning for civil rights legislation and visibility. Over the past 20 years, Supreme Court rulings legalized same-sex sexual conduct and eventually same-sex marriage. The rapid success of the gay rights movement has fostered more accepting coming-out experiences at West.
"No matter what, [coming out] is something you're going to struggle with, but once you take that leap and actually come out, the [overall] West High environment is completely supportive," said Breno Sader '19, a gay student.
Michelle Kim '20, a lesbian student, attributed newfound acceptance to the adjusting period that teachers and students have had to become acquainted with different sexualities.
"People are getting used to it," Kim said. "It's been a thing for a while that people don't care about it."
Albeit, the West community is still not perfect.
"There's been a few occasions with people who aren't okay with the fact that I'm gay," Sader said. "Sometimes it's that they don't understand it and they're curious about it, so they ask [generalizing] questions that they don't really realize are homophobic."
Psychology teacher Travis Henderson credits this ignorance to the idea that many students in the building who are heterosexual or cisgender are unaware of the mental dilemma faced by LGBTQ+ students.
"Part of the privilege of heterosexism is not having to think about their sexuality. Part of the privilege of being cisgender is not having to think about gender," Henderson said.
According to Sader, rather than outwardly speaking against the LGBTQ+ community, peers are more likely to express discriminatory comments or homophobic actions discreetly.
"It's not the remarks that I hear exactly; it's just people who I know who are uncomfortable being around me," Sader said. "They don't like the fact that I'm gay; they don't think it's right, so they don't want to be around me."
Now, according to Henderson, discussions have shifted more towards promoting acceptance, not awareness.
"About half a decade ago, the fight was more about visibility," Henderson said. "I don't think people are asking for tolerance anymore or recognition of their existence. It's not tolerance, it's acceptance. It's that [others] understand [the LGBTQ+ community's] world view and they can empathize to some degree. And I think it's 100 percent reasonable to be asking for those things."
Erin Netolicky '20, a bisexual student, believes part of this acceptance would come from greater discussions of LGBTQ+ individuals in history.
"There's so many strong, powerful figures [whose] sexuality is not mentioned at all or covered up," Netolicky said. "Not having anyone historical to look up to furthers this perception that it's just a millennial thing or just a Gen Z thing and that it's not real."
Many students and families still fear ongoing discrimination in life outside of the school environment, as well.
"My mom wasn't at first accepting of it. She was very worried about what the world would do to me," Kim said. "She sees all this stuff in the news about gay people being discriminated against just because they're gay. My mom was clearly afraid that I would have a disadvantage at life because of my sexuality."
According to Netolicky, simply understanding others' experiences is one of the most powerful actions society can take moving forward.
"It's important to remember that [LGB students are] humans too," Netolicky said. "We shouldn't be othered because of things that we cannot change. I feel that we're more alike than we are different. Realizing what similarities there are is the first step to bridging that gap."
Breaking barriers
For many students, using public bathrooms is an occurrence that happens without another thought. But for transgender individuals at West, this seemingly ordinary event transforms into a time of ridicule and self-questioning.
Aaron Lidral '19 made the transition from female to male during his junior year of high school and subsequently began using male restrooms. However, upon doing so, he started hearing laughter and snarky remarks.
"Within a couple weeks, I started noticing I'd just get weird looks and [comments like], 'Why are you in here?' … I felt unsafe," Lidral said.
After facing harassment, Lidral went to school administration out of fear for his own safety. However, school administration did not take adequate action, forcing Lidral to change his mindset altogether.
"Last week, I could hear [a group of guys] saying, 'Why the hell is he in a stall? Stand up like a man,'" Lidral recounted. "I just kept my head down, washed my hands and walked out. That's just how I've had to approach it."
Lidral's concerns for personal safety are mirrored across the country, as transgender people are at high risk in public spaces. According to a 2015 U.S. Transgender Survey, 47 percent of transgender people are sexually assaulted within their lifetime at least once. During 2014, 46 percent of participants were verbally harassed and nine percent were physically attacked. Moreover, this discrimination, harassment and discomfort can lead to severe trauma at disproportionate rates for transgender students. 39 percent of transgender survey participants experienced serious psychological distress at a rate eight times higher than the U.S. population at large.
Emily Buck '19, COLORS president, says that despite Iowa City's progressive climate, discrimination is still a large part of the transgender and non-binary student experience.
"It seems like a lot of the struggles that non-binary folks and transgender folks go through are not widely seen in the school, even though they blatantly happen," Buck said. "That creates a lot of invisibility for the trans and non-binary experience at West."
The bathroom issue is an important one faced by the transgender and non-binary communities. This is because it is harder to protect students in areas where teachers or administrators are not always present.
"I would say that the school should do more to protect transgender individuals, but it's just really hard, like how can you protect someone in a bathroom?" Lidral said. "That's the main area where I think anyone who's trans feels unsafe. Everyone's vulnerable in a bathroom, but trans people especially."
Last school year, West administration took steps to make the school a more inclusive environment by establishing a gender-neutral bathroom. Although this was a milestone for the West transgender community, discrimination still remains a struggle.
Moreover, there is a great stigma against transgender individuals even within the LGBTQ+ community. Harpur Barahona '20 is a transgender female who experienced this stigma firsthand.
"During eighth grade, I was still figuring it out but also coming to terms with being who I am," Barahona said. "There is a lot of stigma against trans people, and at the time, I didn't want to identify with it, even though I knew that this is what I was … Then, I was trying to keep it back and go with different things so that I would be more normal even within the LGBT community, because there's some people who go against one another in the community itself."
"As long as something is not 'the norm,' it will always feel unsafe for people who don't identify with that norm," Buck said. "[Gender] is just now [becoming] an issue, and there has not been a lot of time to allow for change, especially in mindsets … It's understandable that non-binary and transgender folks feel unsafe, no matter the political climate."
Barahona had a simple message to perpetrators of disparaging remarks.
"I want to know if it's worth it," she said. "Because do you really feel good about yourself after making someone else feel like that? It really doesn't make sense how you can be negative for no other reason than being negative."
The locker room
High school locker rooms are a pertinent battleground for LGBTQ+ rights. According to a 2011 study by the Gay, Lesbian & Straight Education Network (GLSEN), 39 percent of LGBT students avoid these spaces. In addition, just 23.2 percent of LGBT students participate in interscholastic sports, compared to 47.8 percent of all high school students that same year.
The lack of openly LGBTQ+ student athletes partially stems from the language used in a typical locker room. "Out on the Fields," an international study in 2015, found that 84 percent of gay men and 82 percent of lesbian women reported hearing homophobic slurs in the locker room. The study also found a direct correlation between these slurs and the number of closeted athletes.
The barrage of these remarks is intimidating for many closeted LGBTQ+ athletes. Evan Risk, an openly gay assistant boys track coach at City High, has heard his share of homophobic slurs used at practices.
"I was coaching this summer, and I heard some kids use that type of language to call each other 'fags' or 'gay,'" Risk said. "I think a [closeted] kid hearing that and not understanding that they don't mean it while he's already scared and doesn't want to [come out will] set him back further."
Openly gay high school coaches are scarce. Because many LGBTQ+ students do not see people like them in leadership positions on their teams, they may become discouraged from coming out.
"When I think back to my high school experience, if I had come out, it probably wouldn't have been a big deal," Risk said. "But if I had an openly gay coach, or knew of one or knew of a big-time professional athlete who was gay, I think that would have really helped me."
Perhaps most alarming, 79.4 percent of LGBTQ+ students feel they cannot have an open dialogue about their identity with their P.E. teacher or coach. West High Athletic Director Craig Huegel stresses the significance of having even one trusted adult.
"It's important that you have an adult," Huegel said. "It could be the custodian, it could be someone working in the lunchroom … but you need someone … that you feel comfortable having that conversation with."
Huegel believes ensuring supportive cultures on teams is crucial, as athletics can unite a diverse population and benefit those involved.
"I think that's the great part about sports: we have a common goal," Huegel said. "No matter how you're different, there's one common thing we can all get behind and support … We want your teammates to support you no matter what personal problems you have, or what makes you different."
Recognizing the importance of open participation in athletics, West's athletic department has made strides in recent years to ensure opportunities for transgender students to participate.
"If we are able to allow those students to participate, they do. Students are allowed to participate with the gender that they identify with," Huegel said. "[West is] certainly not perfect, but by and large, for the most part, kids are pretty accepting of others."
However, some transgender individuals still make the choice to participate on the team that matches their sex at birth.
"I [didn't] participate on the guys [swim] team just because I'd face a lot more microaggressions, like in the bathroom," Lidral said. "I knew I would feel out of place on the girls team, but I thought I would actually feel more out of place on the boys team, just comparing myself to them constantly."
Moving forward, the best initiative athletes and coaches can take is to be aware of the impact of their interactions with others.
"Last week I went to the safe-school training … [and] one of the teachers made the point that this is about more than just respecting each other," Risk said. "If a kid is in a really bad spot, and you're not an accepting teacher or coach, then that's pretty serious and could lead to serious things for that student."
Push for progress
In response to inadequate results on the district survey regarding LGBTQ+ and non-binary student experiences, district and West administration have cultivated an enhanced community.
One previously-mentioned change was redesigning homecoming court. Due to a recommendation from a district task force committee, West altered the previous homecoming court selection process to become gender-neutral and category free, making it more inclusive of the student body.
Another measure that the school district is taking to improve the LGBTQ+ school experience is instituting Safe Zone training taught by University of Iowa staff as an option for teachers. According to the Safe Zone Project, Safe Zone training provides "opportunities to learn about LGBTQ+ identities, gender and sexuality and examine prejudice, assumptions and privilege."
Previously, teachers had the option to put up stickers acknowledging that their classrooms are safe spaces for LGBTQ+ students. However, over time, these stickers will come down, replaced by signs given only to teachers who are trained and qualified to be Safe Zone instructors.
"Hopefully, we can get every teacher safe-zone trained," Henderson said. "They'll have the knowledge to understand the issues and help students who are in a crisis."
Sader believes this change is a positive step in encouraging teacher support of the community.
"I think that training is a fantastic idea," Sader said. "I think that, again, education is key. If those teachers are educated on helping students, they should definitely earn those plaques."
However, though significant changes were made to make West a more inclusive community, Shoultz does not believe that this process is complete.
"I think [that] we've been a leader in the past couple [of] years," Shoultz said. "If you look at some of the work we've done, it's pretty strong work, but it's a process. I think we have done some things that have been at the forefront, but I don't think that by any stretches of imagination we're done."
Students believe that one way West can continue improving is by providing more instruction on the issues faced by the LGBTQ+ community.
"There's work to be done, and all of that work is educational," Sader said. "You have to teach people about the LGBT community because as human beings, we're afraid of the unknown … The more educated you are about different cultures, the more improved your life is going to be."
Lidral praised these efforts, pointing to his own experience with teaching students about the transgender community as a reference for why LGBTQ+ individuals should be discussed more in the academic setting.
"In AP Psych, our teacher, [Travis] Henderson, has done a pretty good job of including gender and not forgetting about trans people in our lessons," Lidral said. "That's just nice to hear about. I think getting trans people into different discussions is a really good way to normalize it."
As the new director of special equity projects, a division that emphasizes improving quality of educational life for minority students, Cottrell is looking for student voices to assist with helping improve even further.
"I know it is a courageous thing to reach out, but I hate having these conversations about what to do without having their voice at the table," Cottrell said. "I have no voice from transitioning students, [and] it would be very valuable if I could get their feedback … I don't feel right making those decisions without voices from people who are actually living it."
Henderson reinforces that communication, validation and acceptance are ultimately what students in the LGBTQ+ community need.
"It does a lot of harm to have to live through your teenage years, some of your most formative years, and not be able to be yourself and really live your identity in that critical time," Henderson said. "Obviously, we've got a lot of work to do, but I think we're taking steps in the right direction."